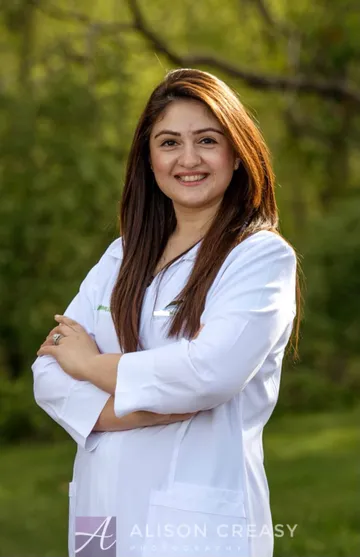 Dr. Aniqa Zaheer, DDS
Dr. Zaheer was born and raised in Pakistan, where she gained widespread experience in dentistry that included private practice and work within a hospital setting. In addition to general dentistry, Dr. Zaheer's areas of expertise include, but are not limited to endodontics work and surgical work such as extractions. She has a true love for helping the many patients who approach her with various oral health needs.
Dr. Zaheer obtained her Bachelor of Dental Surgery degree and from the Islamic International Dental College of Riphah International University in Pakistan, where she also completed her residency. Subsequent to relocating to the United States to advance her career, Dr. Zaheer completed her residency at the School of Dentistry at Louisiana State University. As part of her General Practice Residency, she also built further on her experience in demanding, fast-paced hospital settings as part of her training. In addition to integrating the concept of modern dentistry into the community to bring smiles to the faces of countless patients, Dr. Zaheer's passion includes non-profit work. In this regard, she has immersed herself in many different opportunities such as NGOs and associating with leading organizations in the United States such as the American Red Cross and the American Dental Association. As she considers herself a lifelong learner within dentistry to continue mastering different concepts, Dr. Zaheer has also been a part of numerous international conferences and educational groups within the United States.
When Dr. Zaheer is not dedicating herself to her patients in the clinic, she dedicates herself to her family. Her husband and two sons are the joys of her life and she enjoys spending as much time as possible with them. Dr. Zaheer is also a travel enthusiast and enjoys visiting new places where she can appreciate different cultures, geographic areas, and cuisines.

---
Dr. Paul Chung, DDS
Bio Coming Soon